SieuGau
09/02/2017
Nước ngoài
1255 Xem
---
Coupon giảm giá 20 đô: CPRTPTFND04 . mình không biết ngon không nhưng sale còn 20 tiếng thôi
Overview
Specifications
Warranty & Returns
Reviews
Q&A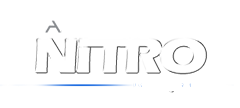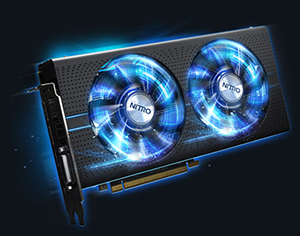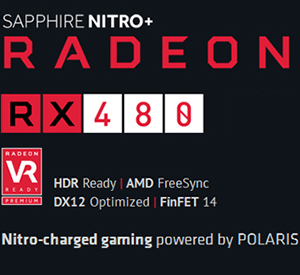 Beyond HD Gaming. A Premium Choice for VR Experiences.
The SAPPHIRE NITRO+ Radeon RX 480 Video Card puts gamers in a front-row seat for the next-gen graphics era. Based on the AMD's latest Polaris architecture, this high-end graphics card employs future-proof technologies - like LiquidVR, HDR-ready, XConnect, etc., delivering impressive level of VR performance and perfectly satisfying your needs for next-generation gaming performance.
High-end performance and quick response means a large amount of heat will be generated. The SAPPHIRE NITRO+ Radeon RX 480 Video Card was designed with that in mind. It features SAPPHIRE's dual-X cooling technology and NITRO Free Flow design for superb cooling performance. Furthermore, the built-in NITRO Glow RGB LEDs emit colorful lights, creating a shimmering look in your system. You can change the colors of the LEDs, for your own customized design.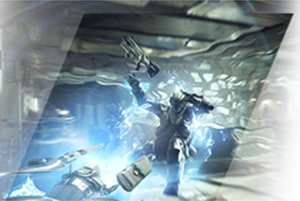 Gaming Optimized
The SAPPHIRE NITRO+ Radeon RX 480 series is designed for high-quality 1440p gaming. It features a 4th generation Graphics Core Next chip with an improved geometry engine, increased caches and native asynchronous shaders. The NITRO+ RX 480 8GB version comes with 2304 GCN-based stream processors that run with a factory-overclock base clock of up to 1342 MHz. The model comes with a full 8GB GDDR5 memory clocked at 2000 MHz on a 256-bit interface.
AMD's Innovative LiquidVR Technology
LiquidVR is an AMD initiative dedicated to making VR as comfortable and realistic as possible by creating and maintaining what's known as "presence" - a state of immersive awareness where situations, objects, or characters within the virtual world seem "real". Guided by close collaboration with key technology partners in the ecosystem, LiquidVR uses AMD's GPU software and hardware sub-systems to tackle the common issues and pitfalls of achieving presence, such as reducing motion-to-photon latency to less than 10 milliseconds. This is a crucial step in addressing the common discomforts, such as motion sickness, that may occur when you turn your head in a virtual world and it takes even a few milliseconds too long for a new perspective to be shown.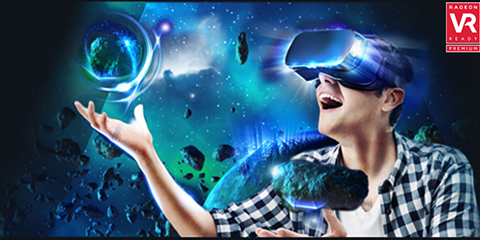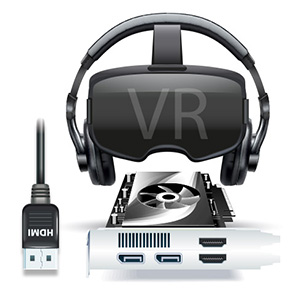 VR Friendly
The SAPPHIRE NITRO Gaming Series cards come with Dual HDMI ports, specifically designed to work with VR. By having two HDMI ports, you can have both an HD monitor and cutting-edge VR headset running at the same time.
The ports are HDMI 2.0b, the latest update, with an 18Gbps bandwidth, up to 32 audio channels, and is able to support 4K 50/60 resolutions like 2160P, whilst remaining entirely backwards compatible with older HDMI specifications.
HDR Ready
High Dynamic Range (HDR) is a state-of-the-art technology for gamers and cinephiles that care deeply about the display quality of their TV or monitor. Modeled after the acuity of human vision, HDR vastly expands the range of colors and contrast ratios that can be shown by compatible displays. HDR-ready games and movies played on an HDR display appear strikingly sharp, colorful, and vivid, with enhanced contrast and sophisticated nuance compared to even the most stunning SDR content.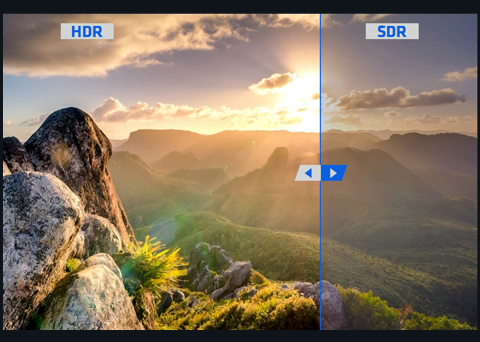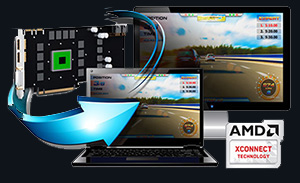 AMD XConnect Technology
Plug in and game on with AMD XConnect technology.
Now it's easier than ever to connect and use an external Radeon graphics card. With AMD XConnect technology, external GPU enclosures configured with Radeon Graphics can easily connect and disconnect to a compatible ultrathin notebook or 2-in 1 over Thunderbolt 3 at any time, just like a USB flash drive - a first for external GPUs!
NITRO Boost
The new NITRO Boost switch increases the boost clock and power limit for higher performance to unleash the gaming performance of the card.
Planning to overclock or looking for maximum performance? SAPPHRE NITRO cards come with an 8-pin power connector to plug in and enable Nitro Boost.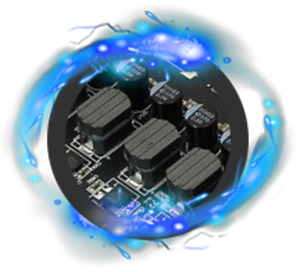 Black Diamond Chokes 4
The Black Diamond Chokes are 10% cooler and 25% more power efficient than a normal choke - and these Mark 4 Chokes reduce the coil temperatures by other 15% over the Mark 3s.
These exclusive chokes will maintain gaming stability using their built-in heatsinks and help minimize coil whine.
Dual-X Cooling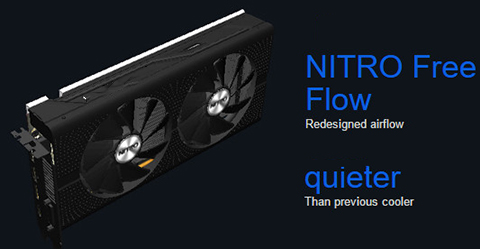 SAPPHIRE's acclaimed Dual-X Cooling is powered by two massive yet silent fans and state-of-the-art radiator design. The new form of the 95mm blades means greater airflow and superior heatsink coverage at lower noise compared to standard cooling designs.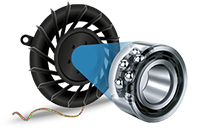 Two-ball Bearing
Dual ball bearings on the fan spindles ensure smooth running and long life and are designed to keep out dust. A quiet cooling solution, two ball-bearing fan features a high-efficiency blade design.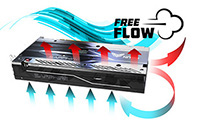 NITRO Free Flow
Taking a look at the traditional axial fan design system, you will find that the way it circulates the hot air back to the fan inlet results in a higher temperature over time. With NITRO Free Flow (NFF), the SAPPHIRE NITRO+ Radeon RX 480 redesigned the airflow of the entire cooler and board, so that the hot air is expelled through the system fan instead, rapidly dissipating heat.
NITRO CoolTech
With the SAPPHIRE NITRO Gaming Series cards' Intelligent Fan Control III, the fan starts precisely at 52 degrees Celsius to smartly balance performance against fan noise.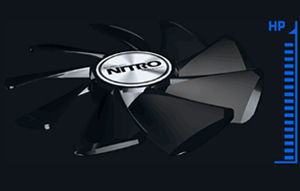 Fan Check
Occasionally a graphics card requires servicing, and more often than not it is the fan that needs some love and attention. However, it can be frustrating to return the entire card and wait for a replacement to be authorised. SAPPHIRE's new Fan Check allows users to check the cooler's status and immediately contact customer support through Fan Service in case of problems. To resolve a specific fan issue, SAPPHIRE provides a quick and easy solution.

NITRO Quick Connect
If there's a fan problem, you don't have to return the entire card - SAPPHIRE will send out a replacement fan directly to you. All the SAPPHIRE NITRO + Radeon RX480 fans SAPPHIRE's Quick Connect system. That means they're easy to remove, clean and replace, with just one screw holding them securely in place.
NITRO Glow

The graphics card is more than another component; it's the beating heart of your gaming system. It should look as good as it costs. With tasteful shroud design augmented by RGB LEDs, each card is practically a piece of art. You can even change the colors of the LED, for your own customized design. This can be controlled via software using the latest version of SAPPHIRE's Award Winning Overclocking Utility - TriXX 3.0, or through hardware by pressing the red button on the back of your SAPPHIRE NITRO Gaming Series card. Users can choose from a set of five different modes including Fan Speed Mode, PCB Temperature Mode or the colorful rainbow mode. If you prefer, LEDs can also be turned off.
Microsoft DirectX 12 Support

DirectX 12 is a new, "console-like" graphics API from Microsoft that empowers game developers with more direct and obvious control of PC hardware. This direct or "explicit" control better exposes the hardware resources of AMD Radeon GPUs to yield higher hardware throughput and, ultimately, more performance for users. To put it simply: much more efficient hardware through smarter software. At the discretion of a game developer, this superior efficiency can be spent on higher framerates, lower latency (VR), lower power consumption, better image quality, or some calculated balance of all four. In any scenario, gamers stand to benefit greatly from choosing AMD hardware to run their favorite DirectX 12 game.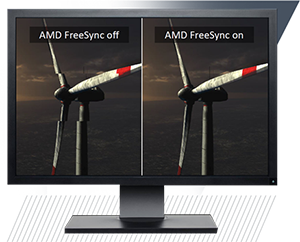 AMD Freesync Technology
No stuttering. No tearing. Just gaming.
AMD FreeSync technology allows a compatible graphics card and monitor to dynamically change frame rates for the optimum display quality without tearing or stuttering.
Freesync uses industry-standard displayport Adaptive-Sync Eliminates screen tearing without all the usual lag and latency.
Synchronizes the refresh rate of a compatible monitor to the frame rate of your content, however much it varies
Monitor partners are validating with drivers from AMD now
AMD Eyefinity Technology
Multidisplay technology for gaming, productivity and entertainment
AMD Eyefinity technology expands the traditional limits of desktop computing by multiplying your screen area. With multiple monitors, games become more immersive, workstations become more useful and you become more productive (an average of 42% more productive according to one study).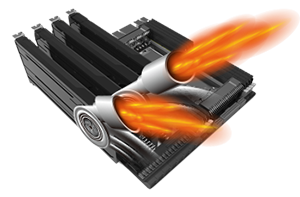 AMD Crossfire
Harness the power of multiple GPUs
AMD CrossFire technology is the ultimate multi-GPU performance gaming platform. Unlocking game-dominating power, AMD CrossFire harnesses the power of two or more discrete graphics cards working in parallel to dramatically improve gaming performance. AMD CrossFire technology ready graphics cards fit practically every budget. With the flexibility to combine two, three or four GPUs, AMD CrossFire technology is the perfect solution for those who demand extreme performance.
---
Copyright Toinenlamgi © 2021